Currently I speak on my book The Love of One: A memoir of the creative power that weaved a miracle. My speaking topics include relationships; unconditional love; prayer and healing; connecting and receiving from the richest depths of vulnerability and the heart; and opening to the magic and flow of the unseen in life.
Down to earth, warm, and engaging, I love to connect with not just the minds but the hearts of those I share my messages with.
I speak for conferences, workshops, fundraisers, womens groups, and anyone who is interested in having a uniquely inspiring, transforming, and openhearted message lift their event.
Want to have me speak at your event? Send me a message and let's talk.
Latest Speaking Engagement: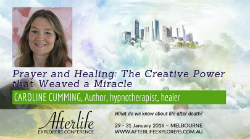 Prayer and Healing: The Creative Power That Weaved A Miracle
How did Caroline's husband, who at 11 a.m. was a walk-in patient for a routine procedure at a local hospital, suddenly deteriorate and crash to the brink of death and coma just hours later? Moreover, how could he go from a 0.5% chance of making it, to not only surviving without brain damage, but to thriving in life? The answers lie in her remarkable, deeply personal, and yet collective story about the possibilities of prayer and healing when expressed at their highest potential.
A gifted storyteller and communicator, Caroline will: describe the different orientations and agendas of prayer; explain the online ''group heart'' set up for Gordon; highlight the ways people sent healing; reveal the changes that took place in Gordon during the timed healings; discuss experiences of parallel and multiple realities with regard to prayer and healing; divulge the one anomaly persistent in Gordon's body during coma and that the medical team could not explain but which prayer might; and, spell out the incredible statistics of Gordon's unlikely trajectory back into this world.
Click here to watch Caroline be interviewed on the theme of her presentation for the 2nd Australian Afterlife Explorers Conference, and on all all things expanded consciousness. (Note: apologies for technical difficulties the host was experiencing – fast forward 4 mins 45 secs to where the interview restarts).